Experience the
Benefits of Horseback Riding
Great Plains Adaptive Riding Academy is a non-profit 501c3 organization that provides adaptive horseback riding programs to adults and children with disabilities. We invite you to learn more about our center and our community of education and well-being.
It all started with an idea,
To have the kids paint while riding.
With a big canvas in hand,
The anticipation was exciting!
A horse was outlined
With some tape and tarp
They thought Kim's idea was crazy
And a little over the top.
As they rode for their lesson
The kids picked their paint.
Red, blue, pink and green
And not one single complaint.
They used their imagination
And painted with care
Some paint even ended up
On the volunteers to wear.
When the lessons were over
The paints were put away
The canvas was finished,
The reveal would be another day.
With love and laughter,
The masterpiece was done
Smiles and giggles
Everyone had fun.
It all started with a thought
And a simple horse graphic
But what the kids created
Was a horse named Magic!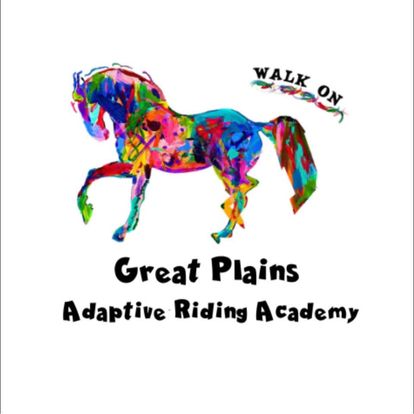 Donate to our Annual Fund
Your one-time donation will help support our general fund, which we need in order to rent our facility and horses, provide equipment for our riders, pay our PATH-certified instructors' salaries, and maintain our program that provides needed respite to our rider families.
Get involved with Great Plains Adaptive Riding Academy
Learn about volunteer opportunities and upcoming volunteer trainings here.